Welcome to the FCA
The Fernald Community Alliance will:
Preserve the history of the land, people, culture and the Cold War for the benefit of current and future generations and to promote the Fernald Preserve as an asset to the community;
Work in cooperation with the Department of Energy regarding education and long term stewardship of the site.
Fall Cleanup of Paddy's Run Road will be held on Saturday 10/27/18 - Meet at the Visitors Center at 8:30 for coffee, bagels, OJ and a safety briefing. Please wear sturdy shoes and warm clothes. Gloves, safety vests and garbage bags will be provided.

FCA Paddys Run Road Cleanup
The spring FCA Paddys Run Road cleanup was held on Saturday April 7. It started out cold and there was some snow on the ground that made it difficult to see the trash/recycling. But then the sun came out and it turned out to be a fairly nice day. Lots of standing water which made it difficult to get to some litter.
Thanks to our cleanup team - Edwa Yocum, Dick Kasparek, Joyce Bentle, Jerry Bradley, Brian Bohl, Graham and Sharon Mitchell. Thanks for turning out! Paddys Run Road is looking good!
The tally was: 11 bags of Recycling + 9 bags of Garbage + "Extra metal & stuff". This was the most recycling we have ever had which may be expected since we cancelled our fall 2017 cleanup due to bad weather.
Thanks to DOE and Navarro for providing safety vests, gloves and bags. Thanks to Harry Meyers with Crosby Twp. for putting out the "Crew Working" signs along the road. Consider joining us in the Fall of 2018.
Roadmap to Resolution - UPDATE!
Last year many of you were contacted as the Fernald Community Alliance (FCA) was proposing to make a DVD telling the complete story of Fernald cleanup and restoration. That project, Roadmap to Resolution, has evolved considerably and it is now more focused on the Fernald lessons learned,and the video is now available.
News & Upcoming Events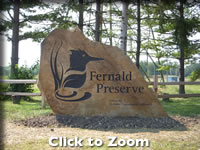 The Fernald Preserve opened to the public on August 20, 2008.
The site is open 7 days a week (7:00 am to dusk) and the Visitors Center is open Wednesday through Saturday (9:00 am to 5:00 pm).